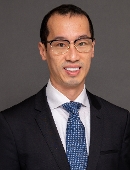 Mount Sinai Doctors
Accepting New Patients
Gilbert H Tang, MD
Cardiovascular Surgery (Heart Surgery)
Book an Appointment
About Me
Clinical Focus
Education & Certifications
Awards
Research
Locations
Insurance
Publications
Patient Experience Rating
Industry Relationships
About Me
Hi, my name is Gilbert Tang and I am the Surgical Director of the Structural Heart Program at the Mount Sinai Health System and a Professor in the Department of Cardiovascular Surgery at the Icahn School of Medicine at Mount Sinai. I have performed over 3000 cases of transcatheter aortic valve replacement (TAVR), transcatheter mitral valve repair (transcatheter edge-to-edge repair) (TEER with MitraClip), transcatheter tricuspid valve repair (TriClip), and transcatheter mitral and tricuspid valve replacement procedures with excellent outcomes, on par with some of the top programs in the country. With our Structural Heart Team and Dr. David Adams' mitral team at our Reference Valve Center, I work with a multidisciplinary group of cardiac surgeons, interventional cardiologists, imaging specialists, vascular surgeons and interprofessional staff to offer comprehensive, holistic care in patients with complex valve disease. Whether it is surgical reconstruction, transcatheter intervention or a hybrid approach, our team has the expertise and experience to deliver top-notched care to you and your family. Our TAVR has earned the top 3-star rating in outcomes in the US ACC/STS TVT Registry for 3 consecutive years, one of few in the Tri-State area and in the country.

During my career, I have achieved many "first" successes in the region and United States, including transcatheter mitral and tricuspid valve replacement and tricuspid valve repair with MitraClip, all performed via the groin without open surgery. Prior to Mount Sinai, I was the Director of the Valve Disease Center at Westchester Medical Center, playing a pivotal role in the launch of its Transcatheter Heart Program. My 24/7 "concierge" model of care has been well received and recognized in the New York area.

As a regularly invited faculty and guest lecturer at national and international conferences, I am leading a number of innovative research projects in TAVR and transcatheter mitral and tricuspid valve therapies. I pioneered the concept of commissural alignment to better orient a transcatheter heart valve during TAVR to make it easier to reaccess the coronary arteries and repeat TAVR, and am leading several international registries in structural heart disease (EXPLANT-TAVR, CUTTING-EDGE, EXPLANTORREDO TAVR). Our collaborative research efforts and clinical results have been published in many top peer-reviewed medical journals and presented at many international conferences. I also had the fortune of training many physicians and heart teams to perform transcatheter valve procedures around the world. Currently, I am involved in several multicenter studies with leading institutions in the US and globally, and on the screening or steering committee in a number of innovative clinical trials in aortic, mitral and tricuspid valve disease.

In terms of my educational background, I received my bachelor's degree at Harvard University and MD at the University of Toronto, where I completed my residency in cardiac surgery as the Chief Resident at the Toronto General Hospital. I also completed a Master of Science in tissue engineering at the University of Toronto and an MBA at the Harvard Business School. Subsequently, I pursued specialized training at Mount Sinai Medical Center in New York focusing on complex mitral valve repair and TAVR, while also underwent advanced training in TAVR at the Leipzig Heart Center in Germany and the University of Pennsylvania. I am a Diplomat and Fellow of the Royal College of Physicians and Surgeons of Canada (FRCSC), Fellow of the American College of Cardiology (FACC), and one of the very few surgeons to be a Fellow of the Society for Cardiovascular Angiography and Interventions (FSCAI).

I look forward to the privilege of caring for you, your family and your loved ones. Thank you very much for the honor and the opportunity.
You can follow me online on Twitter and LinkedIn.
Recent News:
Cath Lab Digest: How Important is Commissural Alignment? 6/11/23
CLD talks with Gilbert Tang, MD, MSc, MBA, Surgical Director, Structural Heart Program, Mount Sinai Health System; Professor, Cardiovascular Surgery, Icahn School of Medicine at Mount Sinai, New York, New York.
Cath Lab Digest: Feasibility of Coronary Re-Access and Repeat TAVR After Sapien 3 TAVR Stratified By Implant Depth: A CT Simulation Study 6/11/23
"We need to look at the CT scan, look at the patient, and determine ahead of time what target implant type to aim for to potentially get the best of all worlds, which means avoiding a pacemaker and avoiding left bundle branch block, but at the same time being able to facilitate anatomically TAVR-in-TAVR in the future."
Cath Lab Digest: Fluoroscopic "Lucent Line" Deployment in Sapien 3 TAVR Using Conventional View is Non-Reproducible With No Impact on Short-Term Outcomes 6/11/23
"Our message is that visualizing the lucent line is not necessary to achieve a high Sapien 3 implantation because, number one, it is not always visible and, number two, there are other factors involved that affect the final implant depth. The good thing is that there is no impact on procedural outcome or in-hospital outcomes."
TCTMD: Surgical Outcomes After Failed TEER: More Insights, Red Flags From CUTTING-EDGE 6/8/23 By Shelley Wood
"We know that with surgical mitral valve repair, if you [achieve] a near-perfect result with mild or better MR, [then] you actually restore the patient's life expectancy, whereas the problem with TEER is that if you don't get that, and you're left with moderate or worse MR, we now have some data showing that it does not restore the patient's life expectancy and, in fact, it impacts mortality."
TCTMD: Beware High-Risk TAVI in Patients With Low-Lying Coronaries 5/11/23 By Michael O'Riordan
"In young, low-risk patients, physicians should strongly consider a low-risk SAVR over a high-risk TAVI," said Gilbert Tang, MD, MSc, MBA (Mount Sinai Health System, New York), who has highlighted the importance of commissural alignment to facilitate future coronary access.
TCTMD: TAVI Explantation Remains a Risky Proposition, Two New Studies Show 4/27/23 By Michael O'Riordan
"With younger patients undergoing TAVR, we have to start thinking more seriously about, number one, what is the ideal first valve intervention in these younger patients, and number two, when the valve fails, what are the options that can be done safely and be potentially durable," Gilbert Tang, MD, MSc, MBA (Mount Sinai Health System, New York, NY), lead author of the EXPLANTORREDO-TAVR analysis, told TCTMD.
TCTMD: Real-world Primary MR TEER Outcomes Carry a Reminder: Do Better 3/10/23 By Shelley Wood
"Commenting on the registry findings for TCTMD, Gilbert Tang, MD (Icahn School of Medicine at Mount Sinai, New York), said he found the data somewhat "concerning," noting that a surgeon would never deem residual MR of 2+ or less "successful," particularly since studies have documented the clear link between residual MR and mortality, a finding affirmed in these data."
Healio - Cardiology Today: Next-generation TAVR system approved to treat patients with severe aortic stenosis 1/17/23 By Erik Swain
"Once the new Navitor valve rolls out, we have to see what the procedural performance looks like. If it is competitive in terms of usability, then we will have a viable third competitor in the market. If it is not, then we will not."
Healio - Cardiology Today: Next-gen self-expanding valve improves alignment, implant depth in TAVR 12/2/22 By Regina Schaffer
"We are reporting on the first, initial experiences with this system, particularly because there are a number of new designs over the Evolut Pro+ platform," Tang told Healio. "The previous Pro+ had two spines in the delivery system; now, they have simplified to one spine, enabling better trackability, which is especially useful for those with challenging anatomy."
TCTMD: Real-World TEER Outcomes in Primary MR Make Gains, but Questions Remain 12/1/22 By Shelley Wood
"The study also confirms what we've seen in surgical mitral repair in primary MR, where more residual MR is associated with higher mortality, as shown in this study with patients left with 2+ or greater MR," he noted. "We should therefore strive to achieve ≤ 1+ MR in TEER in primary MR when feasible, especially in lower risk patients."
Cardiovascular Business: Medtronic's newest self-expanding TAVR system linked to improved performance 11/29/22 By Michael Walter
"These features resulting in better procedural predictability and consistency in TAVR may be critical in low-risk patients and broaden the adoption of TAVR to a wider population. By looking closely at data across multiple centers, we're able to demonstrate the procedural improvements of the FX system over its predecessors."
TCTMD: Surgical Explant or Redo for TAVI Failures? Some Registry Insights 6/10/22 By Michael O'Riordan
"It's why I think we see the differences," he said. "It also explains some of the early mortality differences because a good percentage of these [explant] patients had concomitant surgery."
TCTMD: Non-COAPT-Like Patients Fare Well With MitraClip, EXPAND Suggests 6/9/22 By Michael O'Riordan
"It was a sustained reduction in the COAPT-like patients, which is encouraging because these patients are supposed to be similar to the COAPT trial patients, as well as in the other [non-COAPT-like] patients."
Cardiovascular News: TVT 2022: EXPAND registry shows benefit of MitraClip in patients outside of COAPT trial criteria 6/9/22
"The real-world findings from this study show that excellent MR reduction and one-year outcomes were achieved by MitraClip not only in COAPT-like patients but also in a wider group of patients outside the COAPT criteria, meaning physicians may be able to help even more people with secondary MR."
TCTMD: As TAVI Turns 20, How Has the Heart Team Evolved? 5/04/22 By Yael L. Maxwell
"[Dr.] Tang urged more focus on patients' individual circumstances in deciding what's the best option for care. Family support and socioeconomics need to be considered, he said, when the Heart Team makes their recommendations."
TCTMD: Surgery for IE After TAVI No Better Than Antibiotics in High-Risk Patients 2/25/22 By Michael O'Riordan
"Gilbert Tang, MD (Mount Sinai Medical Center, New York, NY), who wasn't involved in the study, said the take-home message is that you shouldn't take such sick patients to surgery, because it's not going to help. He noted that heart failure and stroke were common complications in this cohort of IE patients, affecting 42% and 10%, respectively. Also, more than a quarter of patients developed septic shock."
TCTMD: With Some Adjustments, Commissural Alignment Possible With TAVI 9/16/21 By Michael O'Riordan
Gilbert Tang, MD, MBA (Mount Sinai Health System, New York, NY), who has investigated how to optimally align THVs with native aortic valve commissures, praised the investigators for their "provocative" study, saying it suggests it is possible to modify existing implantation techniques to optimize valve alignment. "It's very elegant and nicely illustrated," said Tang, "but it's a small, proof-of-concept study that will require a larger number of patients to see if it can be broadly adaptable."
MedTech Outlook: Perspectives on the Current Landscape of Transcatheter Therapies for Aortic and Mitral Valve Disease 2021 By Gilbert H. L. Tang
As our understanding of valvular heart disease continues to evolve, newer transcatheter technologies will undoubtedly emerge, including updated designs from currently-approved systems. With a plethora of percutaneous therapies available on the market, interventional surgeons have to be well-versed with the various patient-, anatomy-, and device-specific factors that ultimatley lead to device selection.
TCTMD: Timing of Mitral Surgery After Failed TEER Influences Outcomes 7/21/21 By Todd Neale
"Even though the TEER profile is safe based on the data out there, it's important to avoid procedural complications and doing procedures on patients with right-sided heart failure and tricuspid regurgitation, because if it fails that leads to a higher mortality," Tang told TCTMD.
Mount Sinai Newsroom: Mount Sinai Cardiovascular Doctors to Receive Honors During American College of Cardiology 70th Annual Scientific Session 5/15/21
William Whang, MD, Associate Professor of Medicine (Cardiology), and Gilbert Tang, MD, MSc, MBA, Associate Professor of Cardiovascular Surgery at the Icahn School of Medicine at Mount Sinai, are receiving the 2021 Simon Dack Awards for their exceptional contributions to the Journal of the American College of Cardiology (JACC) for their peer reviews. This journal ranks among the top cardiovascular journals in the world for its scientific impact.
TCTMD: Dedicated Structural Heart Training Pathway in the Works for Surgeons 2/4/20 By Yael L. Maxwell
To TCTMD, panelist and surgeon Gilbert Tang, MD (Mount Sinai Health System, New York, NY), said he has been part of the ABTS steering committee with Fullerton. "We really strongly believe that surgical trainees who are interested in valvular heart disease should equip themselves with the skill set and knowledge to treat patients with all modalities possible, including medical therapy," he said. "But not to have that knowledge and skill set to be able to do that presents an inherent bias, just like cardiologists. That's where the heart team comes in."
TCTMD: MitraClip in the US: As Coverage Update Looms, Some Questions for REPAIR MR 1/24/20 By Shelley Wood
Gilbert Tang, MD (Mount Sinai Health System, New York, NY), has previously highlighted the fact that quantitative echocardiography in MR is dynamic, making it all the more challenging for referring centers to decide whether a given patient is a suitable candidate.
The New York Times: Bernie Sanders Had Heart Attack, His Doctors Say as He Leaves Hospital 10/4/19 By Sydney Ember
A heart attack means that a portion of the heart muscle died, starved of blood when a vessel was blocked, Dr. Gilbert Tang, a heart surgeon at Mount Sinai Hospital in New York, said.
"The first question is, how serious was the heart attack? What muscle was damaged and how will that affect the heart's function?" Dr. Tang said. "If it was a significant portion of the heart, will that affect the heart's ability to pump?"
If only a small portion of heart muscle was damaged, he added, Mr. Sanders should make a full recovery — even at 78. These days recovery does not depend on age so much as other medical issues, like lung problems, he said.
That does not mean that Mr. Sanders can simply continue as if nothing happened, though. Doctors usually recommend a cardiac rehabilitation program, which is essentially an exercise program in which patients are closely monitored. Such a program, Dr. Tang said, "conditions the heart to work harder."
Mr. Sanders would normally also take a cocktail of drugs to reduce his risk of another heart attack, including powerful anti-clotting medications that require close monitoring for a month, Dr. Tang said.
The New York Times: Bernie Sanders Is Hospitalized, Raising Questions About His Candidacy 10/2/19 By Sydney Ember and Jonathan Martin
Dr. Gilbert Tang, a heart surgeon at the Mount Sinai Hospital in New York, said that if Mr. Sanders's heart was not damaged, he should make a full recovery. But he also sounded a note of caution, saying the risks depended on which artery was blocked: "We don't know what the anatomy looks like and what kind of stent at what location," he said.
TCTMD: Evolut Valves: Initial Positioning Can Be Optimized for Future Coronary Access 7/10/19
"The issue is that, unlike surgery where we actually remove the leaflets of the aortic valve and put the new valve in and then align the commissures properly, in TAVR nobody has been paying attention to how the valve aligns wiht the native anatomy," lead investigator Gilbert Tang, MD told TCTMD.
Health.com: Mick Jagger Had a Heart Valve Replacement -- Here's What That Means 4/5/19
"People need this procedure because they have aortic stenosis--the stiffening and narrowing of one of the heart valves," says Gilbert Tang, MD, surgical director of the Structural Heart Program at the Mount Sinai Health System in New York City.
The New York Times: Tens of Thousands of Heart Patients May Not Need Open-Heart Surgery 3/16/19
"If I were a patient, I would choose TAVR," said Dr. Gilbert Tang, a heart surgeon at the Icahn School of Medicine at Mount Sinai in New York, who was not involved in the new research.
The New York Times: Tiny Device Is a "Huge Advance" for Treatment of Severe Heart Failure, 9/23/18
The results have left leading researchers unexpectedly optimistic. The trial sends "a very, very powerful message," said Dr. Gilbert Tang, a heart surgeon at Mount Sinai Medical Center, which enrolled a patient in the trial.
TCTMD: Will Percutaneous Mitral Repair Catch Up or Surpass Surgery? Experts Make Their Predictions 6/22/18
Not so fast, said Gilbert Tang, MD (Mount Sinai Health System/Icahn School of Medicine, New York, NY), who took the stage after Feldman. Or at least, "not yet."
Percutaneous procedures, at least for now, do not offer the variety of approaches that surgery can offer, he argued, pointing out that MR comes in myriad forms. Different MR etiology, mitral lesions, and patient risk profile all play an important role. And while transcatheter therapies have evolved to approximate edge-to-edge, annuloplasty, and chordal replacement procedures, no percutaneous therapy is able to perform resection and reconstruction, a common surgical technique, Tang said.
The state of Florida requires out-of-state professionals who are registered to provide telehealth services to display a hyperlink to the Florida Department of Health telehealth web page. This allows Florida patients who are receiving medical care by telehealth to confirm the provider's licensure and Florida registration.
Language
Chinese (Mandarin), English, Chinese (Cantonese)
Position
PROFESSOR | Cardiovascular Surgery
Hospital Affiliations
Mount Sinai Beth Israel
Mount Sinai Morningside
The Mount Sinai Hospital
Mount Sinai West
Research Topics
Transcatheter Valve